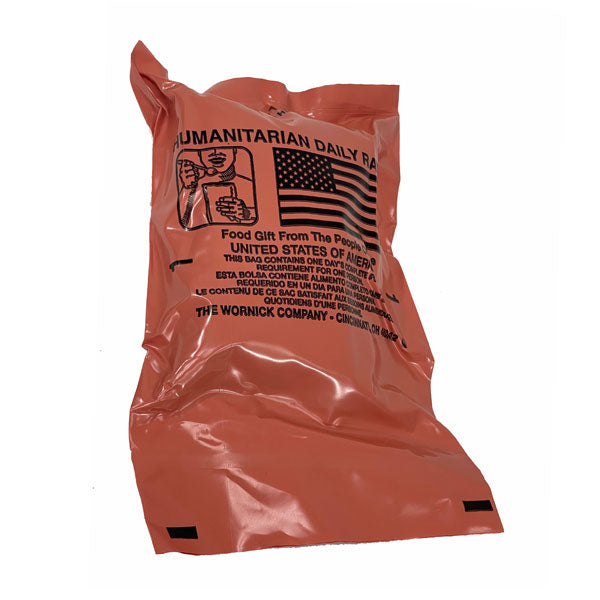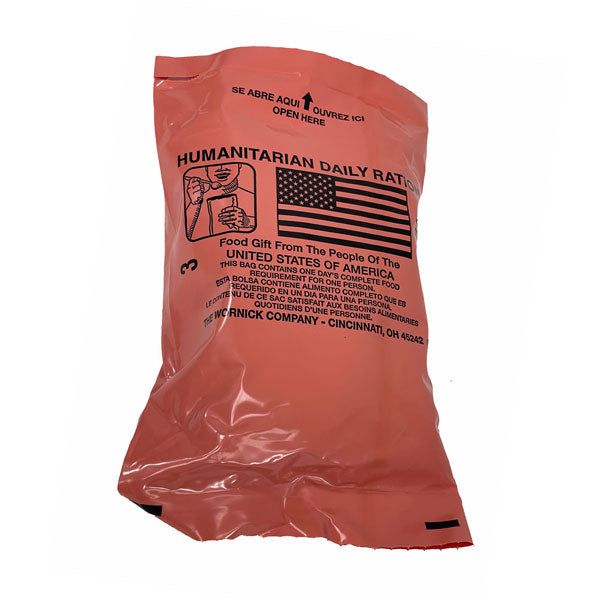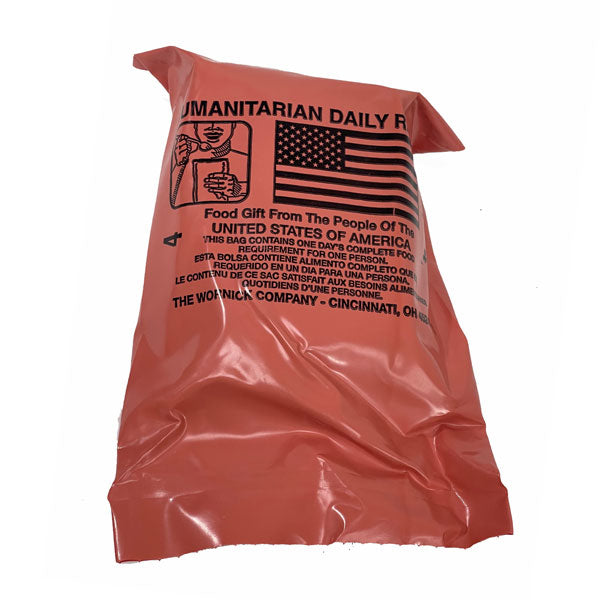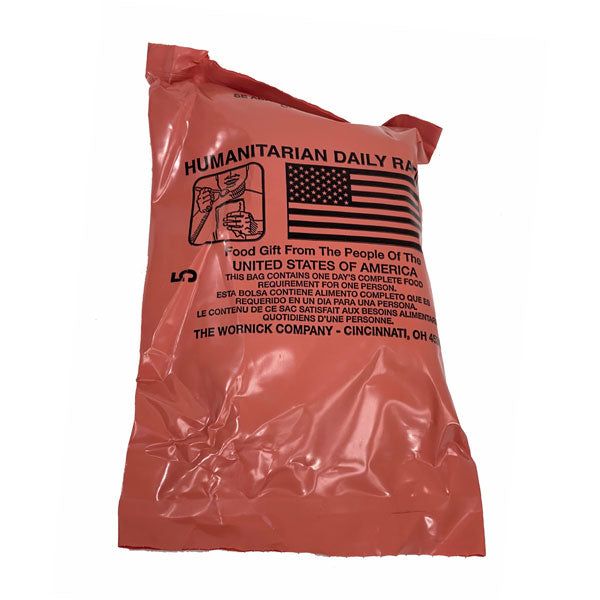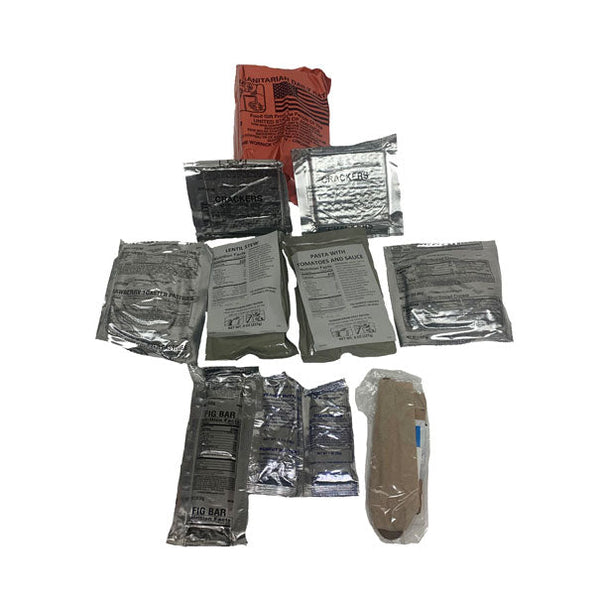 MRE Meals Ready to Eat Humanitarian Daily Rations (No Heater) - Single Meal (2 Servings)
Regular price
$ 19.95
Sale price
$ 9.99
---
MRE Meals Ready to Eat Humanitarian Daily Rations (No Heater) - Single Meal (2 Servings)

These are packaged in 2019. Inspection date 12/23. Humanitarian Daily Ration HDR Prepper Camp Hunting Survival. Meal packs have 2 servings per pack as seen in photo.
Humanitarian daily rations (HDRs) are food rations manufactured in the United States intended to be supplied to civilians and other non-military personnel in humanitarian crises. Each is intended to serve as a single person's full daily food supply, and contain somewhat over 2,200 calories (9,200 kJ).
From the time they were created and used in 1993 until November 2001, HDRs were packaged with a bright yellow outer plastic covering; this choice of color, however, proved to be problematic in areas of the world where cluster bombs were being used, as the bombs were the exact same shade of yellow and recipients of the rations sometimes confused the ration package for undetonated cluster bombs, often spotting the bright color from a distance and making an incorrect assumption; this prompted the United States Federal Government to reissue the packages with a deep salmon pink outer covering to distinguish them from the bombs (this color has been used in the HDR manufacturing process ever since).
• New: A brand-new, unused, unopened, undamaged item.
• Each  Bag contains food requirements for 1 person for 1 full day.
• Bundle Description: 2 servings in each Bag
• Expiration Date:  Inspection Date of 12/23
• Country/Region of Manufacture: United States
• Item Weight:  2.4 lbs per bag
• Main Ingredient:  Varies Per Meal
• Brand:  SOPAKCO, WORNICK OR AMERIQUAL

• Flavor:  5 Different Labelled Menus
• Type:  Ready-To-Eat
Menu #1
Bean Salad
Brown & Wild Rice w/Lentils
Crackers
Peanut Butter
Raisins
Flat Bread
Strawberry Jam
Accessory Pack *
Barley Stew
Lentil Stew
Vegetable Biscuits
Jam
Peanut Butter
Fruit Bar
Shortbread Cookies
Fruit Pastry
Accessory Pack *
Beans & Rice in Tomato Sauce
Herb Rice
Biscuit (2 pack MRE crackers)
Vegetable Crackers (2 pack)
Fruit Bar (2 oz. Fig)
Peanut Butter
Strawberry Jam
Fruit Pastry (2 pack)
Shortbread (1 bar)
Accessory Pack *
Menu #2
Bean Salad
Rice w/Beans
Crackers
Peanut Butter
Raisins
Flat Bread
Strawberry Jam
Apple Fruit Bar
Accessory Pack *
Barley Stew
Peas in Tomato Sauce
Vegetable Biscuits
Jam
Peanut Butter
Fruit Bar
Shortbread Cookies
Fruit Pastry
Accessory Pack *
Red Beans & Rice
Yellow Rice
Biscuit (2 pack MRE crackers)
Vegetable Crackers (2 pack)
Fruit Bar (2 oz. Fig)
Peanut Butter
Strawberry Jam
Fruit Pastry (2 pack)
Shortbread (1 bar)
Accessory Pack *
Menu #3
Bean Salad
Lentils & Vegetables
Crackers
Peanut Butter
Raisins
Flat Bread
Strawberry Jam
Apple Fruit Bar
Accessory Pack *
Barley Stew
Rice & Vegetables in Sauce
Vegetable Biscuits
Jam
Peanut Butter
Fruit Bar
Shortbread Cookies
Fruit Pastry
Accessory Pack *
Lentil Stew
Herb Rice
Biscuit (2 pack MRE crackers)
Vegetable Crackers (2 pack)
Fruit Bar (2 oz. Fig)
Peanut Butter
Strawberry Jam
Fruit Pastry (2 pack)
Shortbread (1 bar)
Accessory Pack *
Menu #4
Beans w/Potatoes
Brown & Wild Rice w/Lentils
Flat Bread
Crackers
Peanut Butter
Strawberry Jam
Raisins
Accessory Pack *
Rice & Vegetables w/Sauce
Peas in Tomato Sauce
Vegetable Biscuits
Peanut Butter
Jam
Fruit Bar
Fruit Pastry
Shortbread Cookies
Accessory Pack *
Pasta in Tomato Sauce
Yellow Rice
Biscuit (2 pack MRE crackers)
Vegetable Crackers (2 pack)
Peanut Butter
Strawberry Jam
Fruit Bar (2 oz Fig)
Fruit Pastry (2 pack)
Shortbread (1 bar)
Accessory Pack *
Menu #5
Lentils & Vegetables
Beans w/Potatoes
Crackers
Peanut Butter
Raisins
Flat Bread
Apple Fruit Bar
Accessory Pack *
Lentil Stew
Peas in Tomato Sauce
Vegetable Biscuits
Jam
Peanut Butter
Fruit Bar
Shortbread Cookies
Fruit Pastry
Accessory Pack *
Lentil Stew
Red Beans & Rice
Biscuit (2 pack MRE crackers)
Vegetable Crackers (2 pack)
Fruit Bar (2 oz. Fig)
Peanut Butter
Strawberry Jam
Fruit Pastry (2 pack)
Shortbread (1 bar)
Accessory Pack *
Cracker Spreads (Peanut Butter and/or Jam)
* Accessory Pack (Red Pepper, Pepper, Salt, Sugar, Spoon, Matches, Alcohol-free Towelette, Napkin)