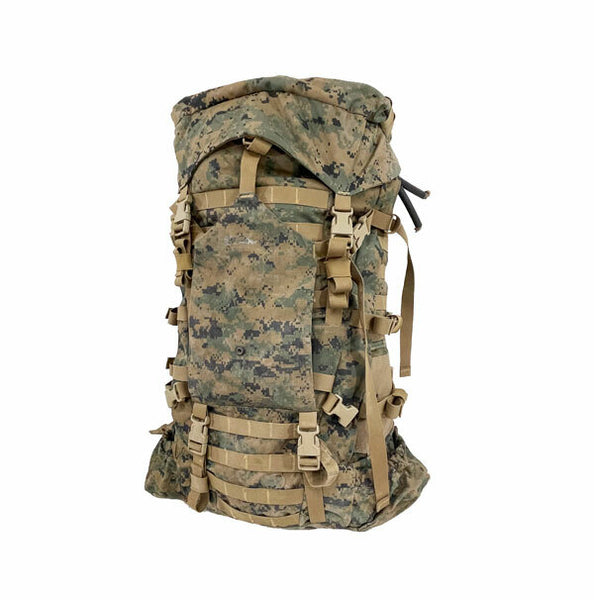 USMC Gen 2 Marpat Tan Woodland Ilbe Main Pack with Lid Belt Complete Arcyteryx
USMC Gen 2 Marpat Tan Woodland Ilbe Main Pack with Lid Belt Complete Arcyteryx
You will receive the complete set; main pack,lid,padded straps & waist belt + extra radio pouch ! The middle section of the belt [with the 2 padded parts] is 32" long. Buckle to buckle is 52". I'd say they'll work up to 36" waist. In 2004 mass production started on the ILBE Packs (Improved Load Bearing Equipment) to replace the heavier MOLLE Packs (Modular Light Load Carrying Equipment) and was specially designed for the US Marines to provide durable lightweight means of transporting clothing textiles and equipment. There are 2 Generations of this pack. The Gen. I pack has the black padding and features and the Gen. II pack has the coyote brown padding and features. Both were produced in the Digital Woodland MarPat (Marine Pattern). The ILBE Pack is designed to carry a load of up to 120lbs but at the same time it distributes the weight so it is comfortable to wear. The key features to the packs comfort is in it's internal frame with 2 metal ribs on the outer sides and 2 larger spars in the middle. These spars are already shaped to fit most peoples backs but can be custom bent if need be. Next the pack includes soft padding on both the hip bet and shoulder straps. With the wide hip belt it displaces the weight around your body with less pressure points. Both straps can be adjusted to custom fit your body and has a breast strap that can be raised or lowered to fit both men and women. To keep the pack snug to your body you will find several compression straps along each side. These can be adjusted for different size Sideloads and keeps your gear in place throughout your hike. Both sides of the pack also includes pockets which makes a nice rest when carrying longer items such as trek poles or holds extra water bottles. You will also find heavy duty zippers on both sides for access to your gear in the main compartment. 
Made in USA

Zipper closure

The set: main pack, lid, padded straps & waist belt + extra radio pouch.

This SET is BRAND NEW out of the BOX. Very Rare.

Made with Cordura 720 denier fabric. Large 4500 cu in. main sack. Designed to carry up to 120lbs.

Zippered access to main pack on both sides. Shoulder straps, sternum strap,and hip belt adjust to fit you.

Extra comfort and padding in both the shoulder straps and hip belt. Several compression straps - pulls the pack closer to your body for center gravity. A side pocket on each side.
MAIN PACK NSN 8465-01-515-8620 
RADIO POUCH NSN 8465-01-515-8270 
SHOULDER STRAPS NSN 8465-01-515-8647
IBLE WAIST BELT NSN 8465-01-515-8270