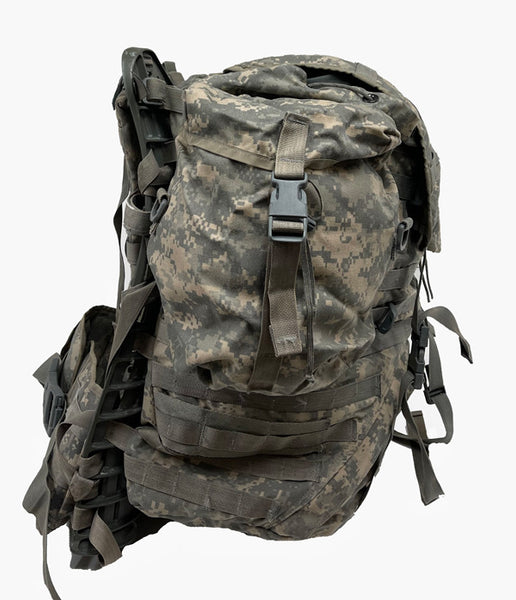 Rucksack with Frame MOLLE II ACU Digital Plus 1 case of 2025 5 MINUTE CHEF MEALS - LOW SODIUM
Rucksack with Frame MOLLE II ACU Digital Plus 1 case of Inspection Date 2025 5 MINUTE CHEF MEALS - LOW SODIUM

Color: ACU Digital

Ruck sack (used good)

Ruck Sack: The Rucksack's main body has a zippered internal load divider, and openings at the top and bottom ends, to allow a sleeping bag (or other gear) to be loaded and unloaded independently without the need for an external "sleeping bag carrier".
Single cylinder design, capacity of 4000 cubic inches. A top flap with a mesh pocket for small reference and information materials, that is secured with a hook and loop closure. Nylon duck material, water resistant.

(2 each) Sustainment Pouches - NSN: 8465-01-524-7226Sustainment pouch has two D-rings on the sides, which allow them to be carried by a "General Purpose Sling" for alternate uses. Textured nylon duck material. 
(1) Main Bag Only - NSN 8465-01-524-5285

(1) Plastic Molle Pack frame - NSN: 8465-01-524-8368
(1 each) Shoulder harness - NSN: 8465-01-524-7240 2 Straps padded; adjustable; covered with textured nylon duck material.
(1) Molded Waist Belt - NSN: 8465-01-524-7232 The molded waist belt is constructed of a molded foam pattern, covered in textured nylon duck. Has nylon webbing straps.
(2 each) Quick Release Straps - NSN: 8465-01-524-8415 2 Foliage quick release straps male adapter clips.
(2 each) Load lifter - NSN: 8465-01-641-9867 Load lifter attachment strap.

 *Other features: Nylon webbing straps around front and sides for attachment of MOLLE compatible pockets (sold separately).
4 external compression straps. Half moon zipper opening on the lower front to enable access to items in the bottom of ruck. Webbing buckles for attaching to the MOLLE frame. ACU Digital Camouflage.
All components are fully functional. Used components may have name or other markings, but there are no rips or tears and no broken buckles or zippers.
NSN: 8465-01-524-5285
5 Minute Chef Low Sodium Meals (2025)

CHEF 5 Minute Meals -MRE- Ready to eat - 12 pack case Variety Pack
Menus:
• Vegetable Lasagna 2 ea.
• Beef Stew 2 ea.
• Beef Chili With beans 2 ea.
• Spaghetti and Meatballs in Sauce 4 ea.
• Chicken Pasta Parmesan 2 ea.