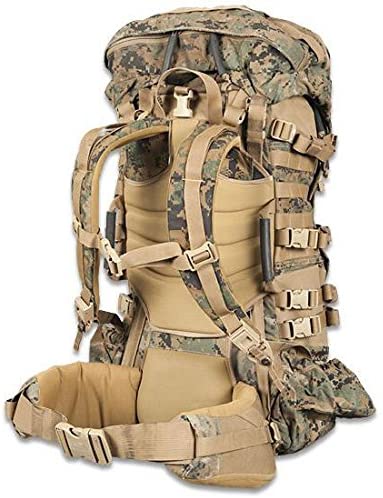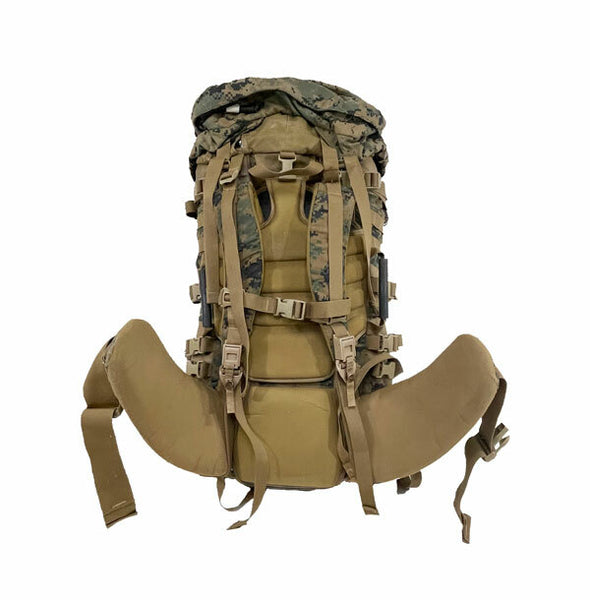 ILBE Main Pack USMC Arcytery'x Generation 2
Propper USMC Arcytery'x Generation 2 ILBE Main Pack
Marpat

The Idea of ILBE is to More Easily Configure the Pack for the Mission at Hand and to Maximize the Mobility, Survivability, and Lethality of the Marine in Combat Environments. The Feature Mentioned above, that is the Ability to Carry Heavy Equipment in the External Pack, is Augmented with the Ability to Carry 120 Pounds as Required in Intense Operations. Yet the Pack Itself Must not be Bulky, No Larger than 6000 cubic inches. This would Include a 4500 cubic inch Main Rucksack and a 1500 cubic inch Assault Pack (Not Included) Along with 100 Ounces of Liquid.
GENUINE U.S. MILITARY ISSUE
Made for the US Military with Superior Materials and Workmanship.
NOT A CHEAP INFERIOR IMITATION!
Made in the USA
2nd GENERATION!
OVER 4500 CUBIC INCHES!
CURRENTLY ISSUED BY THE UNITED STATES MARINE CORPS!

FEATURES OF THE ILBE MAIN PACK:
 
The ILBE Pack (Improved Load Bearing Equipment) was designed by Arc'Teryx and manufactured by Propper international for the US Marines, to provide a durable and lightweight means of transporting clothing and equipment.  The Gen I pack has the black padding and buckles, and is produced in the Digital Woodland Camo Marine Pattern. (MARPAT)
The ILBE Pack is designed to carry a load of up to 120lbs and distributes the weight for maximum comfort. The key feature to the pack's comfort is its internal frame with 2 metal ribs on the outer sides and 2 larger spars in the middle. The spars are already shaped to fit most people's backs but can be custom bent if needed.
The pack has soft padding against the carriers back, on the hip belt, and shoulder straps. The wide hip belt displaces the weight around the body evenly. The shoulder straps can be adjusted to custom fit the body and the sternum strap can be raised or lowered to fit both men and women.
Four compression straps on each side can be adjusted for different size loads to keep your gear in place throughout your hike. Lower pockets on each side of the pack make nice rests when carrying longer items, or hold extra water bottles.  Heavy duty zippers on both sides allow access to your gear in the main compartment.
The back  and sides of the pack have several sewn on strips of webbing allowing the ability to customize your pack with MOLLE accessories, and a compartment to hold a hydration system. When not in use, it can be rolled down and snapped in place.
The main compartment is protected by a corded dust cover which can also be clipped closed. The lid covers the dust cover, provides rain protection, has a zippered compartment and additional MOLLE webbing. The main compartment has provision for a radio pouch, and a center flap which can be used to separate it into upper and lower halves. With the zippers on both sides you are still able to access the bottom without pulling everything out from the top.  An instruction sheet on the use and care of the pack is also provided.
 
The ILBE is Currently the Most Advanced Military Backpack in use by the U.S. Military Today.

MAIN PACK FEATURES:
 
•  United States Marine Corps Issue
•  Digital Woodland MARPAT
•  Model APB03
•  Designed by Arc'Teryx
•  Manufactured by Propper International
•  Made with Cordura 720 Denier Fabric
•  Large 4500 cu in. Main Sack
•  Designed to carry up to 120lbs
•  Zippered Access to Main Pack on Both Sides
•  A Side Pocket on Each Side
•  Zippered Pouch in Lid (WHEN SUPPLIED)
•  Adjustable Shoulder Straps, Sternum Strap, and Hip Belt for Added Comfortably
•  Extra Comfort and Padding in Both the Shoulder Straps and Hip Belt
•  Several Compression Straps - Pulls the Pack Closer to Your Body for Center Gravity
•  A Side Pocket on Each Side
•  Optional Use of Divider to Separate the Main Pack into Two Compartments
•  Includes: Main pack / Shoulder Straps / Hip Belt / Radio Pouch
 
MAIN PACK NSN 8465-01-515-8620 
RADIO POUCH NSN 8465-01-515-8270 
SHOULDER STRAPS NSN 8465-01-515-8647
IBLE WAIST BELT NSN 8465-01-515-8270