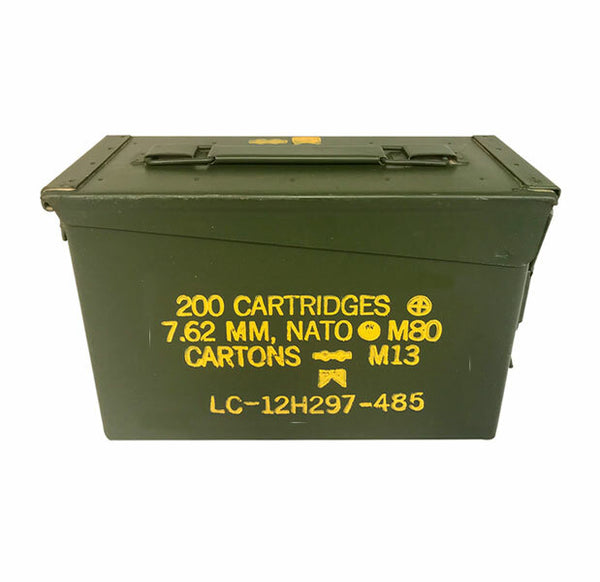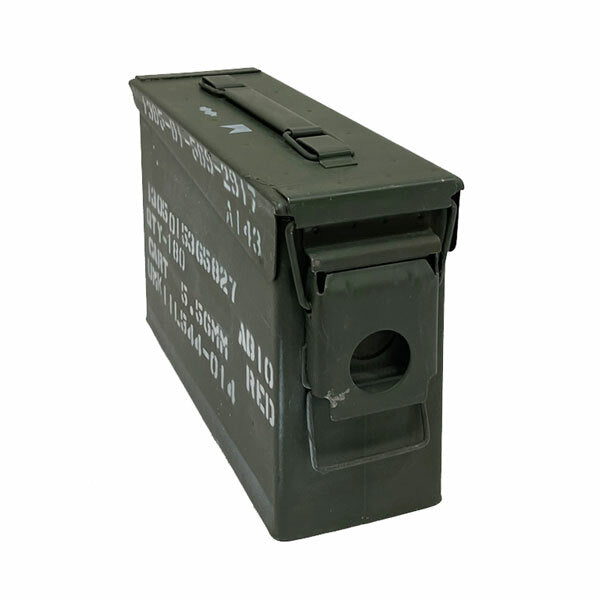 30 Cal Ammo Can
Regular price
$ 32.99
Sale price
$ 17.75
---
30 Cal Ammo Can Used

Color: Olive Drab Green (Powder Coating Polish Paint). 
The 30 Cal is also known as 7.62MM and M19A1. Our 30 Cal Military Grade Ammo Cans feature a hinged lid with a tension clamp-down, a rubber seal on the lid and a carrying handle. Even though they may or may not say 30 Cal on the side of the can, they are indeed, empty 30 Cal ammo cans. Please note when ordering if you have a preference as to whether the stenciling says "30 Cal" or "7.62MM."
• Outside Dimensions: (Length)10inches x (Width)3.5inches x (Height)7 inches.
• Inside Dimensions:   (Length)10inches x (Width)3inches x (Height)6.75inches
• Ammunition Box Material: Carbon Steel SUS304, Aluminum 5052 Surface
NSN 8140-00-828-2938
Grade 1:
Ammo Cans will have little to no exterior surface rust or blemishes. Corrosion is very minor, and limited to the contact points or pivot points on the cans if any corrosion exists at all. The interior of the cans are also free of corrosion and the seals are in excellent like new condition. Minimal dents or dings and no attempts to "demilitarize" the cans by covering the original markings. Most Grade 1 cans are in like new condition aside from minor handling or transportation wear. Ammo Cans are shipped from the ammunition factory inside wooden crates which generally leave some minor scuffs on the exterior. Military ammo cans are not a commercial/retail product so they are handled and packaged much differently than retail goods which are intended to arrive in perfect condition. Grade 1 from OzarkOutdoorz.com is the peak condition for military surplus and is as close to new as possible with a used, surplus product. Most of our customer reviews describe our Grade 1 ammo cans as new condition despite being a surplus item.
Grade 2:
Ammo Cans are likely to have light surface rust from exposure to moisture on the exterior of the cans. The ammo can seals are intact and the interior of the cans are in good condition. Small dents or dings may be present along with exterior blemishes or spray painted markings. Grade 2 cans are structurally sound and ready for service but will have some type of exterior blemish that is visible. By our rating standards, Grade 2 ammo cans are what are commonly found at gun shows. These are the most common military surplus ammo cans. Grade 2 surplus items are the junior varsity of surplus. They are in good condition, but are obviously surplus or used. They try hard and won't give up on you but they just are not quite the cream of the crop. With light preparation and a little paint, Grade 2 cans be made into Grade 1 cans and look like new in most cases.